Concept
New Angled facial vision for your image. Human is imperfect.
レチルドは多くの方のお顔は非対称であり、非対称なお顔をした人それぞれに利き顔があるのでは?
という仮説に基づき、右利き用のデザインと左利き用のデザインを用意した世界初の眼鏡ブランドです。
実際に店舗で実験的に導入しリサーチましたが、サンプルの 40%は右利き、サンプルの 40%左利き、
残りの 20%は両利きでした。つまり左右非対称な眼鏡は稀に見かけますが、
その眼鏡は40+20=60%の方にしか似合わない眼鏡と言える事が出来ます。
つまりレチルドは非対称を誇る特異なデザインが特徴ではなく、
お顔に馴染ませる為に揺らぎが必要でその揺らいだ眼鏡のデザインの効果により、
今までに無い程にお顔に馴染む眼鏡に仕上がったのです。
Human does not mean artificial, embryologist, neuroethicist, and sociologist. The structure of Human is unique, amazing and not artificial.  Whose face is perfectly symmetric? Nobody!! We are all lost nothing can be left in balanced. Basically face of human is asymmetric. Nobody knows who has multi-attractive facial vision. In fact, General structure of standardized eyewear including shape and temples is applied symmetric in common in worldwide. We consider to focus on expressly emphasize the small difference, people ignores until now to be in harmony with natural instead of artificial. Therefore we innovate new amazing concept eyewear to have ability to adapt human's attractive facial vision for asymmetries of face as far as we understand. Our Trademark, asymmetric shape respects the structure of human to be become creatures that we find out your new attractive facial vision as essential concept. We will be pioneer to be present for the new type of great wide collection is launched to coordinate or find out indivisible attractive facial vision in the world
Creative director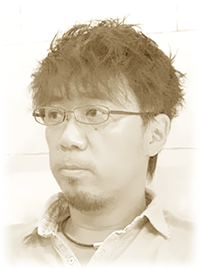 Jiro Itoh opened the optical boutique in Kichijyoji where is are of energetic, natural, comfortable and atmosphere, in Tokyo in 2005 with starting the creation of eye wear just for his customers.  In 2010, the big opportunity what was a turning point in his life is given by Mr. Ralf Andarl at ic! berlin which has collaborated with him to create this limited edition collection of four subtly asymmetric frames. At that time, Collaboration business is very common in the market. However those combinations, a Japanese designer who is come from optician with big brands is unusual and brought successful business. Jiro Itoh devotes to create his private brand as a designer with his wonderful experience, combination of Function and Fashion and asymmetric concept, attractive facial vision with in harmony with nature.